About Us
About Brickell Avenue Flowers
We proudly serve the Miami area. We are family owned and operated. We are committed to offering only the finest floral arrangements and gifts, backed by service that is friendly and prompt. Because all of our customers are important, our professional staff is dedicated to making your experience a pleasant one. That is why we always go the extra mile to make your floral gift perfect.

Let us be your first choice for flowers.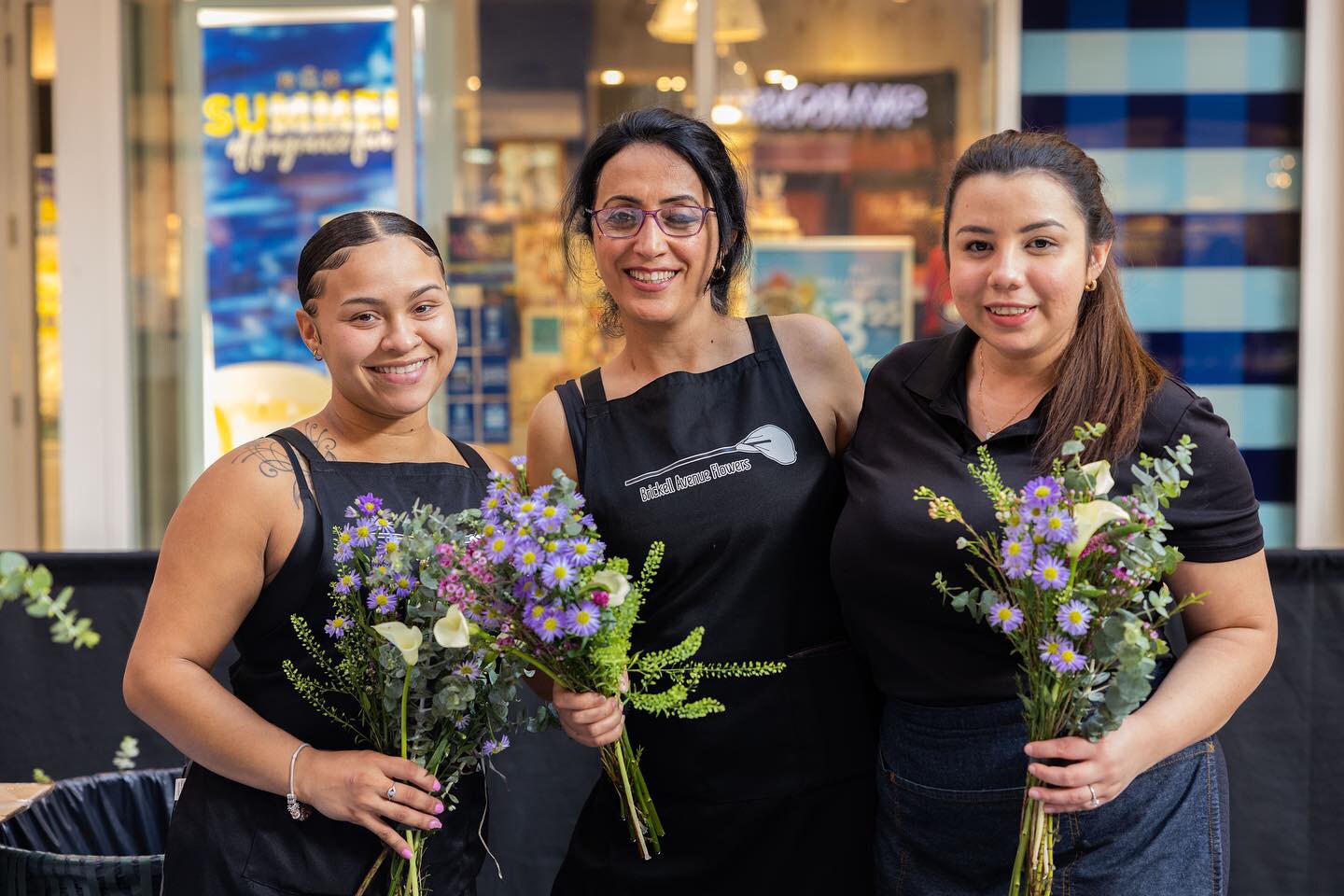 Brickell Ave Flowers & Gifts
701 Brickell Ave Ste 106
Miami,FL 33131
---
Additional Information:
Our shop is open from 9:00 a.m. to 5:00 p.m., Monday through Friday and from 10:00 a.m. to 2:00 p.m. on Saturday.

We are generally closed on Sundays.

To help assure on-time delivery during busy holiday seasons, please place your order at least 1 day prior to major holidays such as Valentine's Day and Mother's Day.


Contact Information
If you have any questions or need more information, please call us directly at 305-577-3330. We're always here to serve you and make your flower-sending experience a pleasure.

Brickell Avenue Flowers & Gifts 701 Brickell Ave, #106 Miami, FL 33131
Payment Information

Areas Served
Our shop serves the Miami area.
We also deliver to the following facilities
Abreu Gonzales Funeral Home
Abreu Gonzalez Funeral Home
Abuelito's Retirement Home
Agape Elim Home
Ahern-Plummer Funeral Home
Alex Tullis Funeral Director
Alf Sevilla Home Care Corp
Aloma Retirement Home
Alton Alf Home
Angela Adult Care #2
Angela Adult Care #3
Apostolado Home
Arcoiris Adult Care
Assisted Home Living Inc
Assisted Living Retirement
Assisted Living Retirement Hm
Aventura Comprehensive Cancer
Aventura Hospital/Medical Ctr
Baby Boomers Adult Care
Bain - Range Funeral Service
Baptist Children's Hospital
Baptist Health Center
Baptist Hospital Of Miami
Baptist Hospital-Neuro
Baptist Outpatient Center
Barrett Fryar Thompkins Home
Bascom Palmer Eye Institute
Bernardo Garcia Funeral Home
Bernardo Garcia Funeral Homes
Blanquitas Sweet Home
Borinquen Funeral Homes
Braswell Alf
Britton Adult Family Care
C & D Home For The Elderly
Caballero Rivero Woodlawn
Cadc Inc
Capri Villa Care Ctr Inc
Capricorn Retirement Home
Carey Royal Ram'n Mortuary
Catholic Health Svc Inc
Cedars Medical Ctr
Classic Residence By Hyatt
Clinical Care Svc
Columbia Aventura Hospital
Companion Home Corp
Coral Gables Convalescent Ctr
Coral Reef Nursing & Rehab Ctr
Coral Terrace Retirement Home
Cordero Residence
Covenant Palms Housing Project
Cremation Society Of Florida
Dade Memorial Park
Dade South Memorial Park
Dadeland Nuclear Imaging
Diocese Of Southeast Florida
Dora's Residence
Dr Stern's Visual Health Ctr
East Ridge Retirement Village
El Paraiso Home Inc
Elsa's House For The Elderly
Esther Home Care #2
Farm Home Care Inc
Ferdinand Funeral Homes
Florida Club Care Ctr
Florida Mortuary
Floridean Nursing Home
Four Freedoms Hse-Miami Beach
Francisco Retirement Home
Fraterndad Alf
Friendship Funeral Home
Funeral Referral Service
Funeral Store Inc
Funeraria Florida Mortuary
Funeraria Memorial Plan
Funeraria Nacional Sur
Funeraria Torres Sanchez
G & G Comfort Castle
Gables Estates
Gables Manor Enterprises
Gables Manor Enterprises Inc
Gamma Knife Institute
Genesis Program
Golden Age Inc
Grace Funeral Home Inc
Graceland Funeral Home
Gramercy Park Nursing Home
Grand Court North Miami
Green Briar Subacute Facilites
Greenview
Greg L Mason Funeral Home
Gregg L Mason Funeral Home
Hadley Davis Funeral Home
Hall Ferguson Hewitt Mortuary
Hampton Court Nursing & Rehab
Hannah Boarding Home
Haven Retirement Home
Hazel Cypen Tower
Hazel Cypen Tower/Irving Cypen
Healthsouth Rehabilitation Ctr
Henri's Resort
Highland Park Pavilion Jackson
Hillview Retirement Home
Human Resources Health Ctr
Icma Retirement Corp
Inhouse Medical Svc Inc
Interamerican Hotels Corp
Irving Cypen Tower
J & D's Place
Jackson Heights Rehab Ctr
Jackson Memorial Hosp
Jackson Plaza Nursing Rehab
Jackson South Community Hosp
Jardincelestial.com
Jay Funeral Home
Jesca
Jorge A Valido
Kehoe On The Bay
Kendall Baptist
Kendall Medical Ctr
Key Pharmacy
La Experanza Home Care
La Milagrosa Home Alf
Las Mercedes
Laura's Elderly Home
Lesende Home Care
Levitt Weinstein Funeral
Levitt Weinstein Mem Chapel
Leyi's Adult Care
Little Havana Retirement Lvng
Living Well Aclf
Love Village
Lovett's Retirement Home
Loving Care Boarding Home
Loving Care Retirement Svc
Madison Funeral Svc
Magda's Home
Maggie's Retirement Home #3
Maggie's Retirement Home Inc
Maggie's Retirement Homes
Magic City Trailer Park
Marie's Florals
Marina Home Care
Martha's Elderly Care
Mary Immaculate Care Facility
Maylu Retirement Home Aclf
McBurrows Boarding Home
Memorial Plan Funeral Home
Memorial Same Day Surgery Ctr
Menorah-Riverside Gordon Chpl
Merci's Home Corp
Mercy Hospital Inc
Mercy Outpatient Ctr
Mercy Outreach Center
Miami Behavioral Health Ctr
Miami Cardiac & Vascular Inst
Miami Children's Hospital
Miami Friendly Homes
Miami Gardens Care Ctr Inc
Miami Jewish Home & Hospital
Miami Jewish Home And Hospital
Miami Memorial Park Inc
Miami Shores Nursing & Rehab
Miami West Active Day Center
Miami Women's Health Ctr
Midway Retirement
Minerva Retirement Home
Mitchell Funeral Home
Molina's Adult Care
Mondschein & Mondschein
Morningstar Retirement Plan
Mortuary Care Facility
Munne Center
Murray Rubin
My Sweet Home
Nany Home Healthcare Inc
National Funeral Home
North Shore Medical Ctr
Nuestro Hogar Inc
Nuestro Senora Del Carmen
Nueve De Mayo
Old Cutler Retirement Home
Our Lady Of Charity
Our Lady Of Fatima Inc
Palace At Kendall
Palace Suites
Palmetto Subacute Care Ctr Inc
Palms Villa Retirement
Pan American Hospital
Paradise Retirement Club Inc
Parke Plaza Retirement Rsdnt
Pax Villa Usa Funeral Home
Pediatric Emergency Conslnts
Peninsula
Perdue Medical Ctr
Pine Woods Villa
Pioneer Adult Residential Inc
Plaza
Plead's Family Inc
Ponce Plaza Nursing & Rehab
Range Funeral Home
Rebeca's Home Care & Aclf
Regents Park
Remanso Alf Inc
Renaissance Gardens Alf
Residencia Paquita
Residential Plaza-Blue Lagoon
Richardson Funeral Home
Riverside Care Ctr
Riverside-Gordon Memorial Chpl
Rona's Retirement Home
Rose's Retirement Home
Royal Funeral Home
Royal Living Retirement Home
Salgado-Van Orsdel
Salgago-Van Orsdel
Sampedro's Residence #2
Scheduling Ctr
Select Specialty Hospital
South Florida Ctr-Endoscopy
South Florida Hyperbaric Med
South Miami Hospital
St Anne's Nursing & Retirement
St Dominic Gardens Inc
Stanfill Funeral Home
Stanley Axlrod Utd Towers
Sunset Gardens
Sweetwater Seniors Residence
Sylvia's Retirement Home
Tandem Health Care Of Miami
Taylor Washington Mortuary
Terrace Manor Inc
Two Green Trees Elderly Care
Ume Family Corp
University Of Miami Hospital
Us Veterans Medical Ctr
Van Ordsel Funeral Chapels
Van Orsdel Family Funeral Home
Van Orsdel Pre-Planning Ctr
Victoria Nursing & Rehab Ctr
Villa Ursula
Vior Funeral Home
Walsh & Wood Funeral Home Inc
Weschester Hospital
West Gables Health Care Ctr
West Gables Rehabilitation Ctr
Westchester General Hospital
Williamsburg Retirement
Wright Funeral Home
Yosumi Medical Ctr Corp
Specialty Services
We specialize in the following services:
Large inventory of fresh flowers
Tropicals
Plants
European/dish gardens
Contemporary and traditional arrangements
High-style floral arrangements
Silk arrangements
Dried floral arrangements
Weddings
Funeral designs
Chocolates
Gourmet and fruit baskets
Gift baskets
Greeting cards
Candles
Delivery Policy
A local delivery fee of $10 will be added to each order, for each address. (For deliveries outside our local delivery area, this fee may vary.)

U.S. orders must be received before noon in the recipient's time zone to assure same-day delivery. Orders received after that time may be delivered the following day.

We will do our best to accommodate deliveries at specific times of day, but we cannot guarantee it.

We are generally unable to make deliveries on Sundays. Deliveries requested on this day will be delivered the following business day.

Delivery of orders to rural route addresses or cemeteries cannot be guaranteed.

We will be happy to accept your international orders if you call our shop directly.
If a delivery is attempted, but an order is deemed to be undeliverable (e.g. the recipient does not live at the address anymore with no forwarding address, the address does not exist, or the recipient refuses the delivery), a refund may be available, but the delivery fee is non-refundable.
Substitution Policy
Occasionally, substitutions may be necessary to create your bouquet due to the availability of certain flowers in various parts of the country. Care is taken to maintain the style, theme and color scheme of the arrangement, using flowers of equal value. Additionally, the substitution of certain keepsake items may be necessary due to increased demand, especially during major holidays. In single-flower arrangements, such as an all rose bouquet, or orchids, we will make every attempt to match the flower type, but may substitute with another color.